RESET- Rejuvenating treatment. -All skin types. 50ml.
RESET will get you a rejuvenating effect- by poridin you a natural glow and younger skin complex by improving collagen and elastin production.
Shipping in 24-48 hours. Select your free samples at checkout.
RESET- Rejuvenating treatment. -All skin types. 50ml.
𝗕𝗲𝗳𝗼𝗿𝗲 𝗮𝗻𝗱 𝗔𝗳𝘁𝗲𝗿
In this image, you can see the before and after of using Reset:

Upper Image: Sònia, mix skin, 40 years old.The main change we can see immediately is the glow and calm skin.
"The first thing I noticed after applying it was the instant 'Buena cara' effect. With continued use, I've also seen much more radiance and an improvement in my skin's texture. After the summer's toll on my skin, this treatment is genuinely helping me restore it".

Lower image of Thania: sensitive skin, 36 years old. You can see the drastic reduction of fine lines around the lips area.
My Dafna Moment.
This enzymatic resurfacing mask is for people who love soothing scents (Lavender, Palmarosa, Boswelia and Lemon) all in their right measure.
Enjoy its soft texture (with granules of matcha tea) and its effects with a great antioxidant power that will bring the immediate "Buena cara" effect to your skin.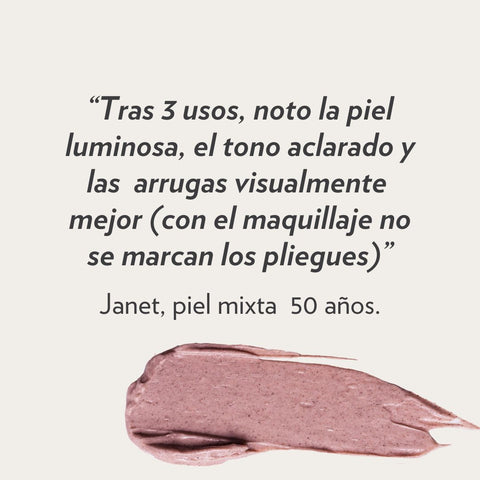 Piel muy luminosa
Desde que la compre la he utilizado 2 veces, la primera vez me escocía un poco la cara y la dejé por 10mins (leí que esto podría pasar) , la segunda vez la dejé por 15mins y todo muy bien. Deja la piel suave, hidratada y con una luz increíble, me encanta como todos los productos de esta marca.
Skin type:
Aging / mature
A great discovery for mature skin
I have applied it on clean and dry face. I left it on for 15'. The texture is creamy and not drying.
With its use I notice my skin is very luminous, with a clearer, softer and hydrated complexion. My skin is smoothed and firmer. I liked it so much that I already have a refill.
Skin type:
Aging / mature, Mix or oily skin /Piel mixta o con grasa
RESET
He utilizado 2 veces la mascarilla RESET y me encanta como deja la piel, con una suavidad extrema y muy luminosa, sin duda un buen fichaje en mi rutina de cuidado facial.
Skin type:
Sensitive /Sensible
Fantàstica Reset.!!
Es fantástica está mascarilla!
Yo tengo Rosácea y no puedo utilizar esfoliantes por qué me irrita, con Reset a sido genial piel perfecta "increíble" me ha devuelto el brillo en la piel.
Recomendable 100 x100.!!
Skin type:
Dry /Seca, Mix or oily skin /Piel mixta o con grasa
INCREÍBLE
40 años, piel mixta. Me acaba de llegar y no he podido resistir el estrenarla en mi rutina nocturna. Me ha conquistado!! Tras su uso inmediato he notado una luminosidad que hacía tiempo que no experimentaba con otras mascarillas; me ha dejado una textura suave, renovada… el resultado final tras aplicar el resto de pasos es de una piel renovada, lustrosa e hidratada. Sin duda repetiré en cuanto vuelva a estar en stock!